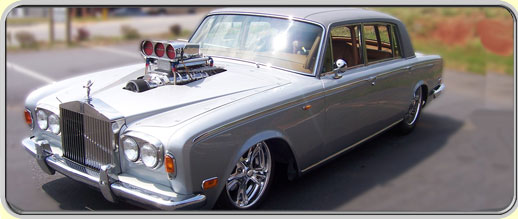 THE WORD'S FASTEST ROLLS ROYCE
The highly-modified 1970 Rolls-Royce Silver Shadow was a 2008 SEMA feature vehicle and show winner showcased on Speed TV. A REAL MONSTER, the one-of-a-kind vehicle boasts 1350 hp and has been recognized far and away as the world's fastest Rolls-Royce. The car is powered by a 9.3-liter supercharged V8 with a nitrous injection system, air suspension and bespoke chassis.
The World's Fastest Rolls Royce has been featured at shows from Coast to Coast and won awards at almost every show!